Welcome To Boss Bio-Tech Ltd.

Boss Bio-Tech Ltd. is an OEM ODM cosmetic, skin and personal care products manufacturing company dedicated to creating high-end quality beauty products.
We are an ISO 22716 certified (Cosmetic GMPC) manufacturer of skin and personal care products, and we also have basic CE, COA, FDA certificates.
With a factory with 20 years of experience and a professional R&D team, we specialize in the formulation of high-end, premium market cosmetics, skin and personal care products, private labels, custom formulations, and more.
Hair Growth Serum
No matter what product we choose, safety is the first thing we should consider, and hair products are no exception. The abuse of chemical additives and other ingredients is very harmful to the human body, so we should be careful when choosing hair growth serum and recognize the ingredients.  

Our Concept:
Using targeted positioning technology to nourish hair, QBEKA activates hair follicles and enhances hair growth, making effect for about 15 days.
It follows the natural growth law of hair, with advanced science and technology for hair growth escort.
Ingredients:
15 kinds of rare natural plant extracts for scalp nourishment, including Polygonum multiflorum, Arborvitae, gentian, caffeine, various amino acids, and various scalp revitalizing ingredients
Hair Growth Serum Components Correspond To Functions
Arborvitae, Polygonum multiflorum, ginger root, ginseng root:
preventing hair from taking off
Mint:
It will be more refreshing, the scalp will be a bit cool
Caffeine, nicotinamide:
stimulating hair growth
Gentian:
Fully nourishing the hair fiber and regenerating the hair scales.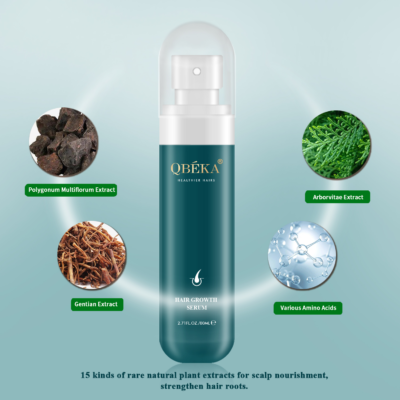 Feature:
Increasing Hair Volume: Contains Polygonum multiflorum, Arborvitae, gentian, and caffeine to nourish and strengthen hair roots for a healthier scalp and thicker hair
Reducing Hair Loss: Infused with Arborvitae, Polygonum multiflorum, ginger root, and ginseng root Extract to protect against hair fall and improve thinning hair.
Strengthens Hair: With Caffeine prolongs hair life cycle. Amino Acids repair damaged hair, protect it against breakage, and give rise to soft new hair.
Recommended using continuously for at least 3 months for noticeable results. Long-term usage will give better results in maintaining full healthy hair.
Although many friends are very anxious, we should pay attention to not credulous exaggerated advertising, "three days stop off, seven days unripe hair" products are certainly not reliable; To assure the quality of the product and perfect after-sale, we should purchase the product by official channel.
 We make your product
You run your business
Many people dream of owning their own skin care brand.
We have helped many people achieve this dream. Let us help you too.
OEM (Original Equipment Manufacturer) contract development of cosmetic, skin and personal care products made in China.
Let us create a private label for your company that will not be copied by others!
Tel:
+8613822136372
Email:
qbekaboss@qbeka.com
Address:
Room 2706, YanQiao Building, No.89 Yanling Road, Tianhe District, Guangzhou , China