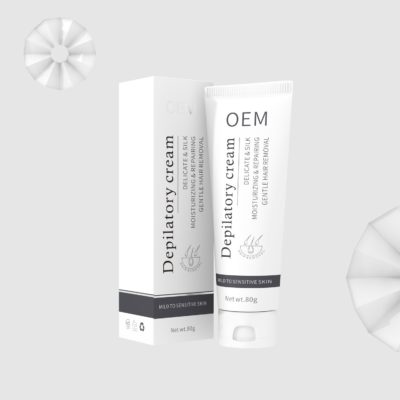 Summer Customization-Body Hair Removal Without Residue
Customize your exclusive brand-OEM.
Shape Soft and Smooth Skin Feeling
Moisturizing & Repairing
Gentle Hair Removal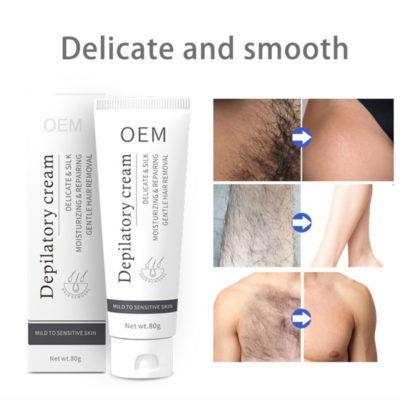 The plant ingredients are mild and can be used in areas where body hair grows. After use, there will be a fragrant scent, which can relieve the unpleasant odor from the body.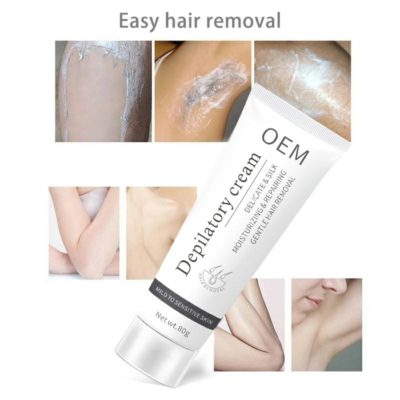 Ingredients:
Caprylic/Capric Triglyceride, Cetearyl Alcohol, Urea, Simmondsia Chinensis Seed Oil, Parfum.
Features:
Riched in hair removal essence and uses a new and gentle formula to remove hair. It has a refreshing and non-greasy texture and a fragrance after use. Using it to remove hair is simple and easy, can make the skin feel soft and comfortable, and maintain skin elasticity. Moisturizes the skin and minimizes harm on the skin; Minimizes pores and breakouts.
Net: 80g/100g/200g
Form: Cream
Fragrance: Floral
Usage:
Firstly, Using a hot towel to soften the body hair or soak it in hot water for a while. Then apply the depilatory cream evenly for 5-8 minutes on the area where you want to make depilatory.
After that, When the body hair becomes melted, take a towel to wipe it away reversely and clean your skin with cold water.
To get rid of stubborn hair, it is recommended to let the cream sit for longer. If necessary, kindly apply the cream twice in the same area.
Note:
1.Allergic reactions may occur. It is suggested to test the product in a small area of the skin in advance.
2.Avoid touching of eyes. If the product gets into your eyes accidentally, please rinse with plenty of clean water immediately and seek medical treatment.
3.Not suitable for minors.
4.Please put the product out of the children's reach.
Suitable: For adults; Store dry and out of sunlight.