A Helping Hand For Your Skin Care Brand(Peptide Series Products)

Welcome To Boss Bio-Tech Ltd.
Boss Bio-Tech Ltd. is an OEM ODM cosmetic, skin and personal care products manufacturing company dedicated to creating high-end quality beauty products.
We are an ISO 22716 certified (Cosmetic GMPC) manufacturer of skin and personal care products, and we also have basic CE, COA, FDA certificates.
With a factory with 20 years of experience and a professional R&D team, we specialize in the formulation of high-end, premium market cosmetics, skin and personal care products, private labels, custom formulations, and more.
Peptide Series Products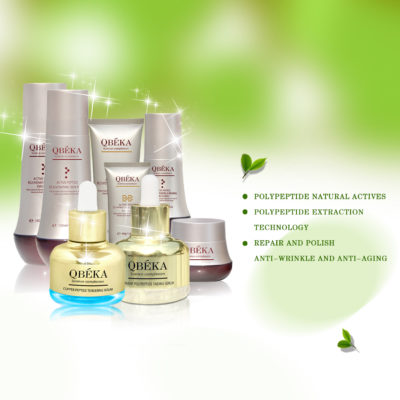 Polypeptide stock solution is a compound formed in the later stage of amino acids, which has a good effect on the skin. There are special polypeptide stock solutions, and some skin care products contain polypeptides. Polypeptides have a strong repairing effect and also have a protective effect on the skin. Be sure to keep your face clean, otherwise it will cause facial allergies.
1. Peptide stock solution repairs skin:
Polypeptide stock solution can repair facial skin, and it can be used if there are acne marks on the face. After long-term use, you will find that your acne marks have been improved, and the skin is not shiny and dull. You can use polypeptide stock solution to improve skin brightness and keep skin oily. , so that the skin maintains normal metabolism and makes the skin more white.
Polypeptide stock solution does a good job in tightening the skin. For loose skin, you can use polypeptide stock solution to tighten the skin, avoid wrinkles, and delay skin aging. Celebrities rely on this to stay young, and Whitening effect, make the skin melanin disappear, can reduce the dark spots on the face, and can also lighten the dark spots.
2. Polypeptide stock solution has a good moisturizing effect:
The hydrating effect of the polypeptide stock solution is also very good. It can be used for dry skin. After cleansing the face, just apply it directly to the face. You can use this as a moisturizing lotion. It is artificial, and the biological polypeptide stock solution is easier to be accepted by people, and the absorption is faster, and the artificial effect is relatively poor.
The peptide stock solution has relatively strong penetration and has a deep moisturizing effect. It penetrates deep into the skin to keep the skin in a full state at all times, and can also lock the moisture on the face, preventing the face from losing water. The molecules in the peptide stock solution are particularly small, and the skin absorbs faster. , After using the peptide stock solution, the absorption effect of other skin care products will be very good, which is equivalent to the usage of the care solution.
3. The effect of plant essence is better:
The peptide stock solution contains plant extracts, which can be tested for sub-healthy skin. If there are many acne marks on the face, the skin is dull, and it is easy to break out, use the peptide stock solution to let the plant essence in it regulate the skin in an appropriate amount. Oxidation can easily cause dangerous damage to the skin, and the peptide stock solution can prevent this problem.

Many people dream of owning their own skin care brand.
We have helped many people achieve this dream. Let us help you too.
OEM (Original Equipment Manufacturer) contract development of cosmetic, skin and personal care products made in China.
Let us create a private label for your company that will not be copied by others!
Tel:
+8613822136372
Email:
qbekaboss@qbeka.com
Address:
Room 2706, YanQiao Building, No.89 Yanling Road, Tianhe District, Guangzhou , China